22. This Japanese Taxi Has A Button To Request Slower Speeds
21. Japanese Hotel Apologies For One Minute Internet Stoppage At 4am
20. Drink Cans Have Names Written In Braille On The Top
19. Wash Your Hands And Reuse The Water For Your Next Flush
18. Japanese Manhole Covers Are Beautiful
17. The Students Do The Cleaning Themselves As A Part Of Showing Gratitude To The School
16. The Note In Japanese Says, "I Accidentally Knocked Over Your Bike And Broke The Bell. I Am Very Sorry"
15. This Is How Smooth The Bullet Train Is In Japan
14. Japanese Commuters Push Train To Save Passenger Trapped by Car
13. Koi Fishes Even Live In Drainage Channels In Japan, So clean that even fish can swim
12. Another Reason Why I Love Japan
11. Expectations Meet Reality In Japan
10. This Shopping Center In Japan Has Free Refrigerated Lockers
9. Look how disciplined the Japanese dots are and look at the others.
8. This Smartphone Wiper Dispenser In Japan

7. This Bedside Lamp At My Hotel In Japan Can Be Half Lit
6. Children's Seat On The Fujikyu Railway Line In Japan
5. Everyone In Japan Reverse Parks
4. Tokyo Train Company Tsukuba Express Apologized For 20-Second-Early Departure.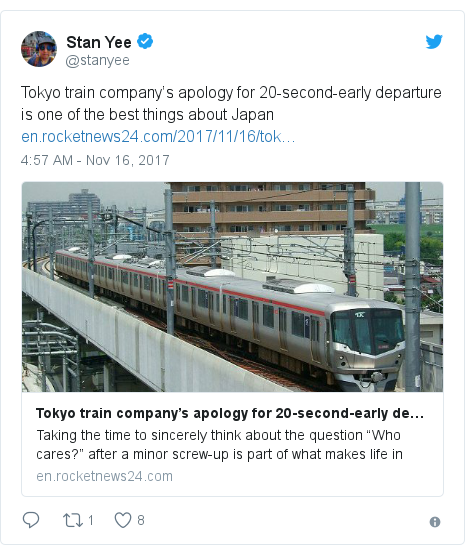 3. Lift In Japan Has A Seat That Can Be Used As A Toilet
2. Japanese ATM's Have Cane Holders
1 . The crossing is one of the world's most well known examples of a scramble crosswalk